WENZHOU VTO AUTOMATIC CONTROL VALVE CO.,LTD
Valve Actuators: Pneumatic Actuators, Hydraulic Actuators, Electric Actuators, ...
Valves: Ball Valves, Butterfly Valves, Gate Valves, Check Valves, Globe Valves, Control Valves, ...
Accessories: limit switch, manual override, solenoid valves, air units (air filter, regulator, air set), ...
E-mail: vtovalve@hotmail.com
Current Location: vtovalve >> Products >> Valves >> Plug Valves >> Flanged Lifting Plug Valves According to ANSI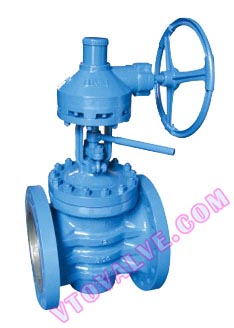 Flanged Lifting Plug Valves According to ANSI
1. Overview
Flanged lifting plug valve is applicable to cutting and connecting the medium in pipelines. It has been used in many industries, such as petroleum, chemical industry, chemical fertilizer, electric power industry, pharmacy, etc.
2. Features
1). Rational construction, reliable seal, excellent performance and nice appearance.
2). The on/off operation of valve is carried out while the sealing surface is taken off, so it will not cause abrasion on the sealing surface.
3). Bidirectional design, more convenient to install or use.
4). The materials of parts and dimensions of flanges may be customized according to specific requirements in working conditions.
3. Working Principle
Open: Turning the handwheel to lift the plug and make it separated with the sealing surface, then rotating the handle by 90 degree, the channel of plug will be connected with the channel of valve body, the valve will be under open state.
Close: Rotating the handle by 90 degree to make the channel of plug perpendicular to the channel of valve body, then turning the handwheel to descend the plug to close the valve.
4. Structure and Norms
5. Technical Specification
6. MAIN PARTS MATERIALS
7. MAIN DIMENSIONS AND WEIGHT
© vtovalve.com All rights reserved.