WENZHOU VTO AUTOMATIC CONTROL VALVE CO.,LTD
Valve Actuators: Pneumatic Actuators, Hydraulic Actuators, Electric Actuators, ...
Valves: Ball Valves, Butterfly Valves, Gate Valves, Check Valves, Globe Valves, Control Valves, ...
Accessories: limit switch, manual override, solenoid valves, air units (air filter, regulator, air set), ...
E-mail: vtovalve@hotmail.com
Current Location: vtovalve >> Products >> Accessories >> Limit Switch >> ALS400QA23 Limit Switch Box, ALS400QA23 Series Valve Monitor
ALS400QA23 Limit Switch Box, ALS400QA23 Series Valve Monitor
Product Name
Limit Switch Box, Valve Monitor
Model No.
ALS400QA23
Overview
The ALS400QA23 Limit Switch Box (Valve Monitor) is a rotary position indication device suited for HAZARDOUS area (Exd II CT6). Armed with magnetic sensors, this device can sense valve positions (on/off) for remote PLC or PC indication. The visual indicator on the top of the device can also clearly display the valve position for local detection.
Approved

Specifications And Technical Data
Enclosure
Die-casting aluminum: O-ring sealed
Coating
Dichromate conversion with polyester powder coating
O-rings
Buna N
Environment
NEMA 4, 4X, 7, 8, IP66
Area Classification
Class I Div 1&2 Groups A,B,C and D, Ex d II CT6, Ex II 2G Ex d II CT6
Fasteners
Stainless steel
Shaft
Stainless steel Namur
Conduit Entries
Two 1/2" BSPP
Also available with two 1/2" NPT, 3/4" NPT, 3/4" BSPP or M20-1.5
Terminal Strip Contacts
8
Mounting Bracket
MB - 3.4: 30 x 80, 130 H : 20, 30 (Carbon steel)
Temperature Rating
-20℃ ~ 85℃
Sensor: 2 ALMS Inductive Sensors (3 wire)
Model No.
QA23
Operating Voltage
5~240 VAC/DC, <=300mA
Operating Temp.
-25℃~+85℃
Wiring Diagram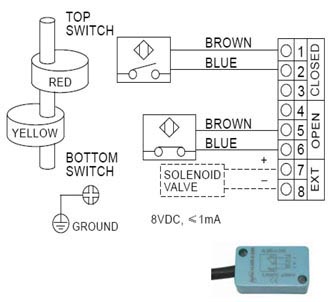 Drawing and Dimension

© vtovalve.com All rights reserved.