WENZHOU VTO AUTOMATIC CONTROL VALVE CO.,LTD
Valve Actuators: Pneumatic Actuators, Hydraulic Actuators, Electric Actuators, ...
Valves: Ball Valves, Butterfly Valves, Gate Valves, Check Valves, Globe Valves, Control Valves, ...
Accessories: limit switch, manual override, solenoid valves, air units (air filter, regulator, air set), ...
E-mail: vtovalve@hotmail.com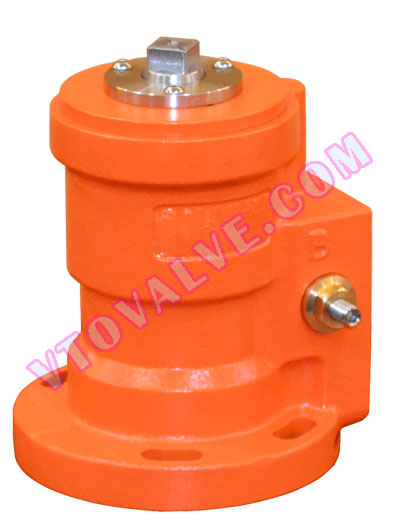 BRM Series Helical Hydraulic Actuators
1. General
BRM series hydraulic actuator designed by helical swing-cylinder structure. The shaft of the actuator rotating by relative motions of two kinematic pairs. One is inside spiral of housing and outside spiral of piston, another one is inside spline of piston and outside spline of output shaft.
Features:
- Compact design
- Large output torque
- Accurate swing angle
- Zero leakage
- Smooth action
- Balanced and zero fraction, long life
2
. General
Pressure on "A", indicator slot is moving clockwise, Valve closed and indicator slot is parrallel to mounting area.
Pressure on "B", indicator slot is moving counter-clockwise, Valve open and indicator slot is perpendicular to mounting area.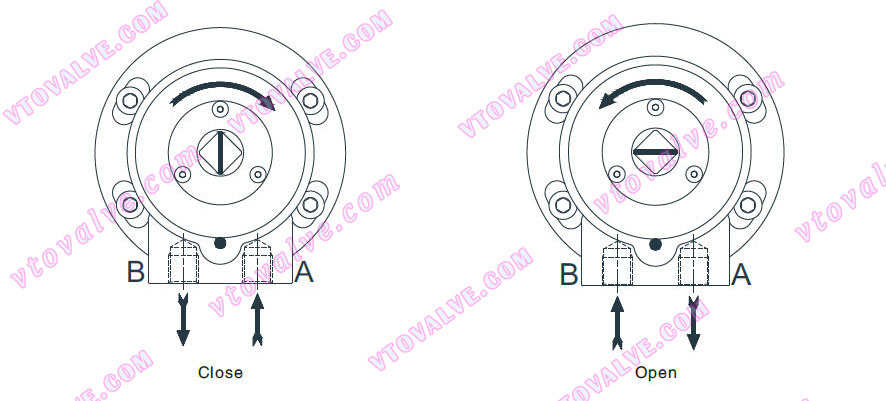 3. General Characteristics
Installation

arbitrary

Material of Intermediate Flange

C45

Suited Ambient Temperature

-20℃~+80℃

Working Pressure

Max. 13.5MPa

Actuator Type

helical balanced quarter-turn actuator

Burst Pressure

67.5MPa

Material of Housing

GGG40

Rotation

90°±1°

Material of Piston

GGG40

Hydraulic Medium

mineral oil according to DIN51524,
other media on request

Material of Shaft

C45

Contamination Level for Hydraulic Medium

max. class 9 in accordance with NAS1638

Material of Indicator Shaft

stainless steel

Viscosity

15cst~200cst
4. Output Torque and Displacement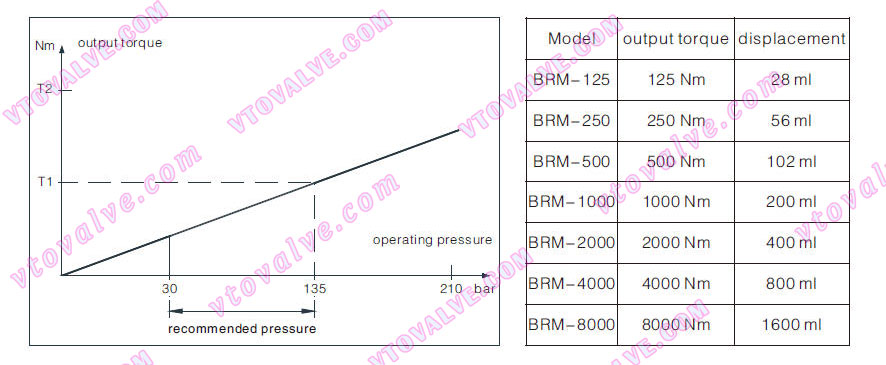 5. Dimensions and Weights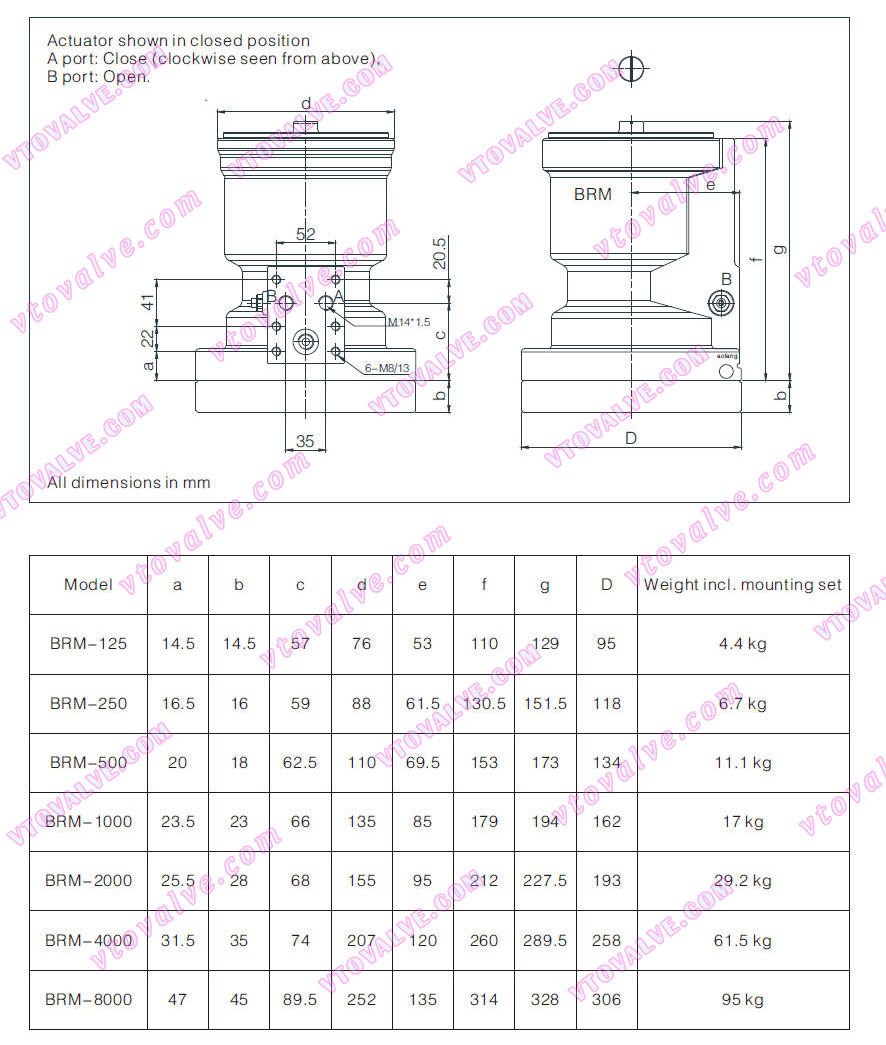 6. Flange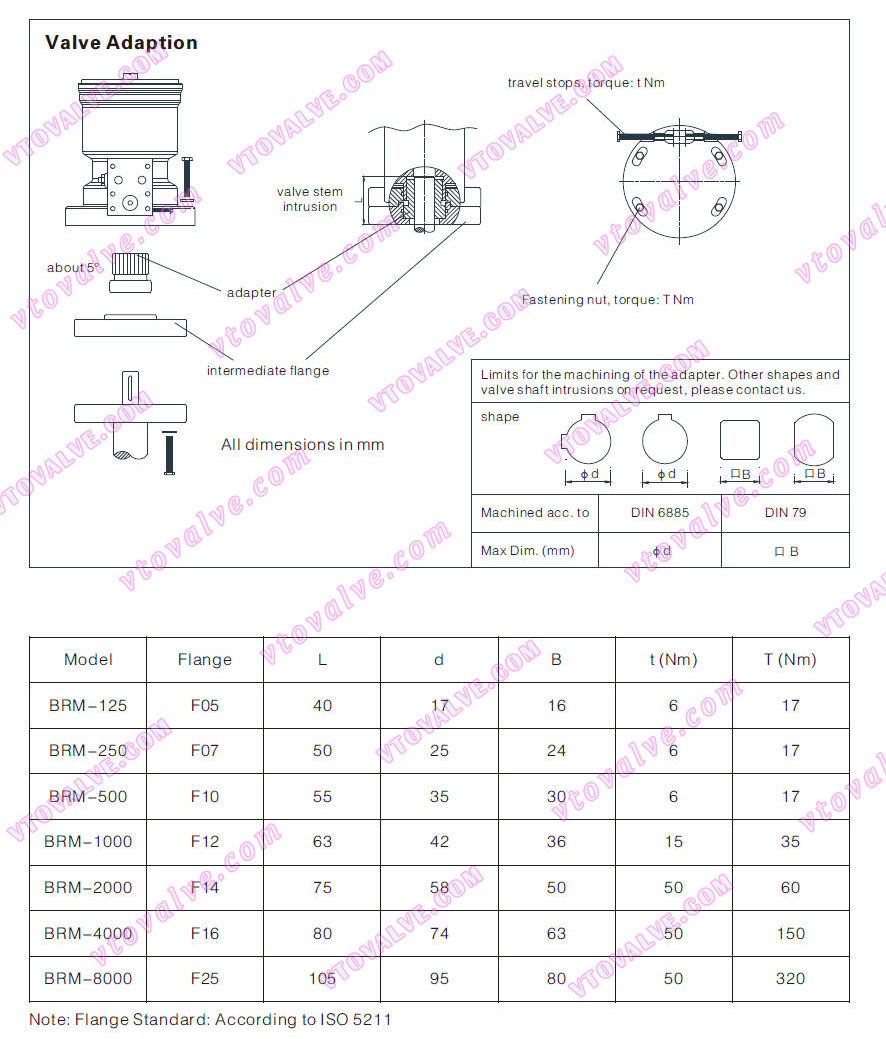 © vtovalve.com All rights reserved.